You wanted to "Chillax", so you put on the album by Bob Schiele.  Good move!  After all, you've been "Running to Slow Down" for quite a while.
After listening and becoming inspired, you head down to the bar, because "There Ain't Nothing Like A Beer".  While you're there, you  meet this girl.  You strike up a conversation and you exchange cell phone numbers.  The next day, the phone rings, with your global ringtone: "When Strangers Come to Call". 
It's her!!  Awesome! You're nervous and not sure what to say, but you recall the words of "The Tabloid Song" in your head and find all kinds of things to talk about!  She finds you weird, but interesting and agrees to go out with you again sometime.  She's not a stranger anymore, so you decide she should have a special ringtone.  With fingers crossed, you select the hopeful "Maybe Maybe Maybe" ringtone for her contact card so that you won't miss her call.
She does call and you agree to meet again at a local bar.  But neither of you knew that Bob Schiele was playing this place tonight, so it's mobbed!  It's difficult to move, let alone find someone, but finally you come upon her and exclaim "I Found You"!  Sparks begin to fly and you take her back to your place.
Once there, you both kick off your shoes and break out the beer and wine.  After showing her that you don't need money to have a good time, she says she's hungry and asks what's in your fridge besides beer.  Being slightly embarrassed, you simply come clean and tell her "I Got Nothing".  She finds you cute though, so she lets it slide and you both make plans to take a trip together.
You hop in the old convertible and head south.  Next thing you know, you're staying overnight in a Post Card Inn on "Islamorada".  Love is in the air!  In the morning, you tell her that "Paradise is You" and you both head down to the End of the Road and get into a "Key West State of Mind" together.
The rest is history.....marriage, home, kids...
Many years later, the stars align and you finally take her to the long dreamt-about "French Polynesia".  After a couple hours of toes in the sand, you find that you're both back where you started...
"Chillax"...
---
 
Whatever mood you're in, whatever adventure you're living, one of these ringtones will work for you...
Ringtones
iPhone ringtone instructions
To install iPhone ringtones, you'll need to install them from your computer that has iTunes on it.  Choose from the left-hand column above. Right-click and use "Save Target As..." to save them to your computer.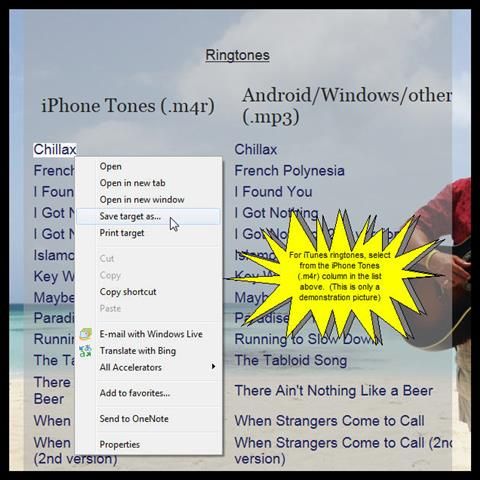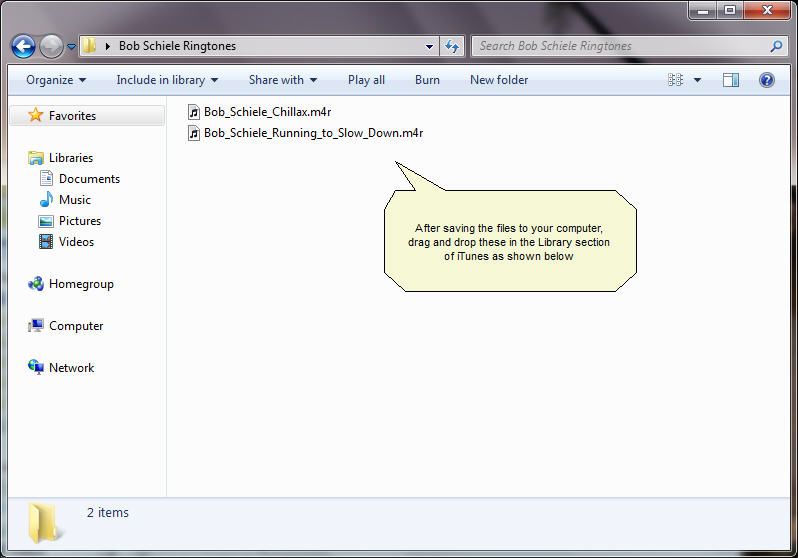 Open iTunes and drag-and-drop the new "m4r" file(s) onto the "Library" section of the iTunes sidebar (shown below). They should automatically find their way into the "Tones" folder. (If you don't have one already, a "Tones" folder will be created automatically in iTunes.) 

Click on "Tones" in the sidebar to make sure the files are there.

Sync the "Tones" folder with your phone (the same as you would any music files) and then on the phone itself, go to Settings | Sounds | Ringtone and select the one you want to use. On iPhone 5, your new ringtone(s) should be shown above the default ringtones in a new list called "Custom".  For iPhone 4 and 4s, the ringtone(s) will instead be in the same list as the default ringtones, seperated by a line: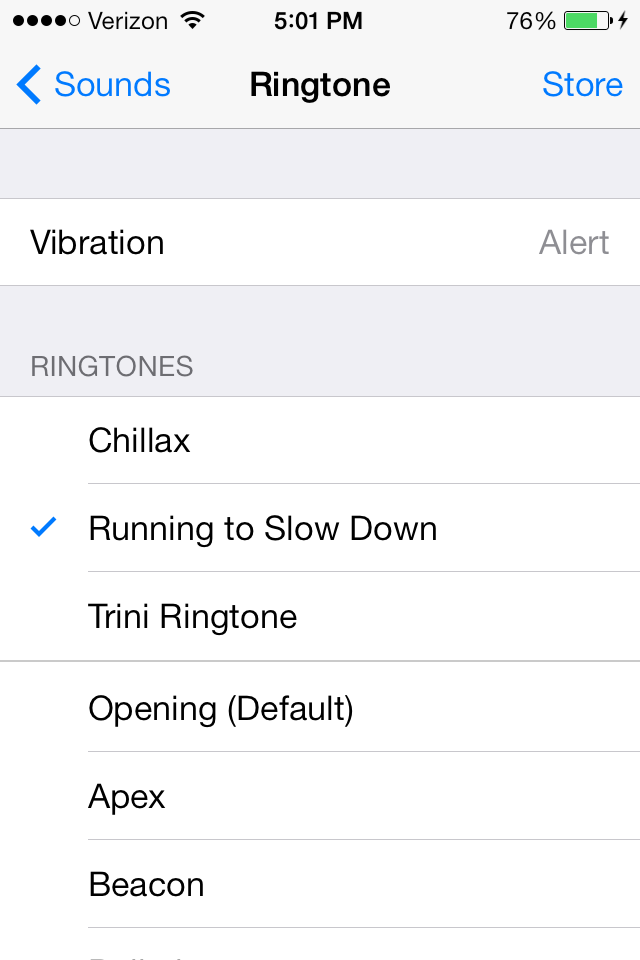 You can also set ringtones for individual contacts by going into the contact then selecting Edit and scrolling down to Ringtone. 
More information on Android and Apple ringtones available on the web.
Listen to tracks & buy on iTunes
Listen to Radio Margaritaville